May 10, 2018
Pokémon Go Gameplay Increases Player Well-Being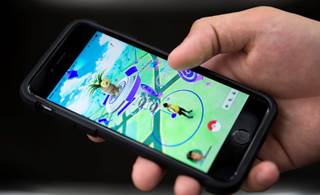 Early anecdotal reports indicate that Pokémon Go may provide players with myriad mental and physical health benefits.
NEW YORK—Playing Pokémon Go has been associated with an improved sense of well-being and increases in both physical activity and social behaviors, according to research presented at the 2018 Annual Meeting of the American Psychiatric Association.1,2
The Pokémon Go app launched in the spring of 2016, and since then has become a phenomenon among fans. The app uses the GPS and camera functionalities of players' smartphones as players gather at Poké-Stops to collect virtual items — such as Pokéballs, potions, berries, or Pokémon eggs — that help players "catch" more Pokémon. Gameplay requires players to engage in both physical activity and face-to-face social interactions with other players. The app is popular in particular with teens and young adults, a group that has "historically been difficult to engage in behavioral treatments for depression and anxiety disorders," according to an American Psychiatric Association press release.2
"The study [of Pokémon Go] came out of clinical observation," said Michael Van Ameringen, MD, professor in the department of psychiatry and behavioral neurosciences at McMaster University in Hamilton, Ontario, in an interview with Medical Bag. "We had patients who, when the game came out, were really very socially anxious and very depressed. We could not get them to engage in any kind of behavioral or psychological treatment. They started playing Pokémon go, and it was amazing that they actually went out and engaged with people. So this gave us an idea that maybe this game is working as a mental health treatment."
Dr Van Ameringen and colleauges retrospectively assessed changes in mood and anxiety symptoms in players of Pokémon Go. In total, 152 participants completed the survey posted on the MacAnxiety Research Center's website.
The study sample was 78% female, 89% single, and 62% full-time students; mean age was 20 years. Participants spent an average of 7 hours per week engaging with the app over an average of 13 weeks.
Dr Ameringen and colleagues found that 33% of participants reported changes in social behavior after starting playing Pokémon Go. Of these patients, 85% reported speaking to unfamiliar people, 76% reported spending more time with friends, 41% reported making new friends while playing, and 51% reported that playing Pokémon Go increased their physical activity. Players with a history of mental health treatment spent more time playing Pokémon Go than those without previous treatment.
"Although the game was not designed to be a mental health app, early anecdotal reports indicate that it may be providing mental health benefits," noted the press release. Study authors concluded that Pokémon Go and its associated improvements in social behavior and well-being highlight the app's "potential as a behavioral activation and exposure tool for mental health treatment."
While Pokémon Go was not designed to be a mobile mental health app, Dr Van Ameringen recognizes the future clinical implications of the game's success.
"You could use this type of gaming technology to engage people who are traditionally very hard to engage in traditional therapy or behavioral activation," he said, adding that Pokémon Go resulted in better patient outcomes than many other mobile health apps.
"People engaged with this app themselves. Because you have to go catch these Pokémon at specific sites, — and there are other people there, and everyone is talking because they all want to catch this Pokémon — [this] allowed for exposure for very socially anxious people," Dr Van Ameringen concluded. "If we could harness this and work with gaming developers, I think [this technology] has a lot more potential than just as an app."
References
Van Ameringen M, Simpson W, Turna J, Patterson B, Pullia K. Pokémon Go: a potential tool for mental health? Presented at: 2018 American Psychiatric Association (APA) Annual Meeting; New York, NY; May 5-9. Abstract 154.
American Psychiatric Association. Pokémon Go: A Potential Tool for Mental Health [news release]. https://www.psychiatry.org/newsroom/news-releases/new-research-pokemon-go-a-potential-tool-for-mental-health. Published May 6, 2018. Accessed May 6, 2018