February 11, 2019
Resist the Script: Antibiotic Overuse in Pneumonia — An Expert Roundtable
This article originally appeared
here.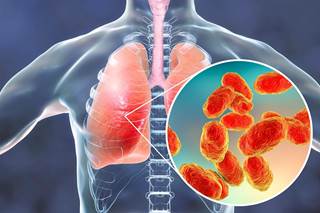 Three expert clinicians discuss how we can curb the overuse of antibiotics in pneumonia.
According to the World Health Organization, antibiotic resistance is a huge threat to global health.1 Prescription of antibiotics for patients with suspected respiratory infections, including pneumonia, has been cited as a significant factor contributing to this growing problem.2 There is also an increasing awareness of the patient-level consequences of antibiotic misuse, such as risks for drug allergy and toxicity.2
In addition, antibiotics can induce long-term alterations in the microbiome3 of the gut and lung, which "manifest overtly through secondary infections such as Clostridium difficile infection (CDI) but also more subtly through alterations in host response to infection and contributions to diabetes mellitus, atherosclerosis, inflammatory bowel disease, and asthma," as explained in a review published in Clinics in Chest Medicine.2 "It is likely that these direct hazards to the patient will serve as a greater deterrent to antibiotic overuse than less tangible risks such as breeding resistance."
However, the various challenges associated with the diagnosis and management of pneumonia, including the lack of definitive diagnostic testing and widely applicable treatment guidelines, have often led to the preemptive administration of antibiotics in suspected cases.
Experts have recently called for a shift toward personalized medicine in pneumonia management. The first step in this endeavor would be to refine the diagnostic categories to include viral pneumonia, bacterial pneumonia, and noninfectious respiratory disease, the authors of the Clinics in Chest Medicine article wrote.2 They added that the "full realization of personalized medicine requires a complete delineation of disease mechanisms, advanced diagnostics for interrogating these mechanisms in patients, and targeted therapies for modulating them."
To glean further insights regarding antibiotic overuse in pneumonia treatment, Pulmonology Advisor interviewed 1 of the review authors, Charles Dela Cruz, MD, PhD, associate professor of medicine (pulmonary, critical care, and sleep medicine) and of microbial pathogenesis, and director of the Center for Pulmonary Infection Research and Treatment at Yale University in New Haven, Connecticut, as well as the following experts: Michael S. Niederman, MD, MACP, FCCP, FCCM, FERS, professor of clinical medicine at Weill Cornell Medical College in New York City and associate division chief and clinical director of pulmonary and critical care medicine at New York Presbyterian/Weill Cornell Medical Center in New York City, who also coauthored a recent paper4 on the topic; and Catherine S. Forest, MD, MPH, FAAFP, clinical associate professor of medicine in the Division of Primary Care and Population Health at Stanford University in California.
Pulmonology Advisor: What are the key issues regarding the current approach to antibiotic use for pneumonia?
Dr Niederman: A delay in starting the right therapy for pneumonia can increase mortality and lead to adverse outcomes. Therefore, we are forced to use initial empiric therapy. However, if the therapy we select is too broad spectrum, we risk promoting overuse of antibiotics, which can drive antibiotic resistance.
Dr Forest: The key issues are:
Overdiagnosis: Depending on the setting, providers may not use best practices, which now require radiologic confirmation for diagnosis. Lack of access to same-day radiology and point-of-care respiratory polymerase chain reaction testing, compounded by the push for productivity over quality of care, as well as outdated clinician practices, all contribute to overdiagnosis. Recent analyses note that overdiagnosis is more common in community settings than in emergency department settings.5