September 13, 2018
Role of the Perioperative Surgical Home in the Context of the Opioid Epidemic
This article originally appeared
here.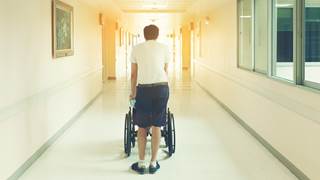 The Transitional Pain Service aims to improve the pain trajectories of patients at high risk for chronic postsurgical pain or opioid overuse.
Minimizing the risk for opioid-related side effects and preventing opioid abuse are among the major challenges involved in the provision of optimal perioperative care. In the postoperative period, opioid-naive individuals have an increased risk for chronic opioid use, with one study showing prolonged opioid use in 3% of this population after major elective surgery.1.2
"Management of the chronic opioid-tolerant patient who comes to surgery is especially vexing….[as] differential tolerance to analgesia vs respiratory depression can occur," according to a recent review published in Anesthesia and Analgesia.3,4 "While the dose required to reach this equianalgesic effect will likely be much greater in the opioid-tolerant patient, an equianalgesic opioid dose administered perioperatively will cause more respiratory depression in opioid-tolerant than in opioid-naive patients."
The evolving perioperative surgical home model offers a comprehensive approach to addressing these issues by tailoring the treatment plan to the history and needs of the individual patient, reducing the unnecessary use of opioids, and implementing multimodal analgesic regimens. The review authors propose that the integration of a Transitional Pain Service (TPS) within the perioperative surgical home could further assist in meeting these goals by serving as the "needed but missing linkage to improve the continuum of care and perioperative pain management for elective, urgent, and emergent surgery," especially for underserved patients.3
The TPS, such as the prototype currently in place at Toronto General Hospital,5 seeks to improve the pain trajectories of patients at high risk for chronic postsurgical pain or opioid overuse.6,7 Ideally, the TPS involves a multidisciplinary team, including a "pain medicine specialist, internal medicine hospitalist, addiction medicine specialist, pain psychologist, licensed social worker, and advanced practice registered nurse," with a high degree of coordination and communication among members.
In addition to optimizing pain control and opioid use, the integration of a TPS has the potential to reduce both postdischarge hospital readmissions and the cost and disability linked with chronic postsurgical pain.6,8
Halena M. Gazelka, MD, assistant professor of anesthesiology and perioperative medicine at Mayo Clinic, spoke with Clinical Pain Advisor regarding her thoughts on this model.
Clinical Pain Advisor: What is the potential role of the perioperative surgical home and a TPS in reducing perioperative opioid consumption and misuse?
Dr Gazelka: The potential role of such teams would be in providing consistent management of patients by a limited number of trained individuals throughout their perioperative care. One significant risk to patients after surgery is either remaining on opioids or, if they were already taking them for chronic pain, increasing their dosing — often long term. Further, patients with substance abuse disorder, including opioids, often require them after surgery; this represents a time of potentially high risk for misuse or relapse. As far as reducing opioids available for misuse, these trained teams would be able to individualize opioid management, in contrast to the "one size fits all" approach that is now all too common — for example, surgeon X gives every patient with a hip replacement 100 oxycodone tablets.
Clinical Pain Advisor: What would the implementation of such programs require, and what are some of the barriers?
Dr Gazelka: These programs require structure to accommodate them and institutions committed to providing a team-based approach to pain and addiction care. Unfortunately, there are too few pain and addiction specialists to provide this service at many institutions. Further, the cost of the team-based approach is likely to be prohibitive. Reimbursement would need to expand for pain management, addiction medicine, and alternative therapies, particularly in the inpatient setting. Some institutions would need to significantly improve the perioperative care coordination and communication [among] team members — surgeon, anesthesiologist, internist, pain specialist, addiction specialist, social work — and with the patient.
Clinical Pain Advisor: What should be the focus of future research in this area?
Dr Gazelka: A large-scale study to follow patients treated with this team-based approach vs "typical care" without modification would be useful to examine: patient and surgeon satisfaction with care, perioperative opioid use and continued or increased use, impact on risk for misuse (including leftover medications that may reach others), cost of care impact, and so on.
Clinical Pain Advisor: What other thoughts do you have regarding this approach to perioperative care?
Dr Gazelka: I think the approach described is well thought out, well timed (in light of the opioid crisis), and altogether an excellent approach to perioperative pain management. If evidence exists of its cost effectiveness, that is likely to speak loudest (unfortunately) for widespread implementation. Medical systems already stretched thin want to do the right thing for patients but require results. It seems self-evident that this approach would positively benefit patients and the surgical team.
Surgeons are being told that they bear partial responsibility for the opioid crisis, but they are typically not adequately trained in appropriate pain management — much less caring for patients with chronic pain or patients with substance use disorders who require surgery. These patients challenge even the seasoned pain management specialist — and access to these teams would likely benefit all involved, most importantly the patients.
References