June 25, 2018
Medical Clearance of Psych Patients in the ED: Consensus Recommendations
This article originally appeared
here.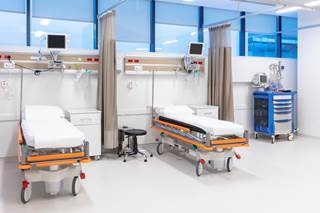 There is a lack of consensus between psychiatrists and ED physicians regarding standard protocols for the evaluation of psychiatric patients.
Psychiatric complaints prompt an estimated 4.9% to 6.3% of all emergency department (ED) visits in the United States.1 This number is increasing for various reasons, including a shortage of psychiatrists, closure of state mental hospitals, and reduced funding for community mental health care.2 "As a result of these and other factors, psychiatric emergency visits are resource-intensive, longer, and may [also] contribute to crowding" due to their impact on lengths of stay and wait times for all ED patients, according to a paper published in 2017 in the Western Journal of Emergency Medicine.2
In addition, various studies show that 19% to 80% of psychiatric patients have comorbid medical illness, which may cause, contribute to, or worsen psychiatric symptoms. ED physicians must often provide "medical clearance" of these patients before they can be transferred to psychiatric care, and these exams have become more intensive as the medical capabilities of the receiving psychiatric facilities has diminished.3,4 However, there is a lack of consensus between psychiatrists and ED doctors regarding standard protocols for the evaluation of psychiatric patients. This is likely one reason that medical comorbidities are often overlooked in this patient population — in 80% of cases, according to one study.5
Such results underscore the need for unified language and procedures between clinicians in both settings. "The American Association for Emergency Psychiatry believes that there is a need for a standardized approach to the medical evaluation of psychiatric patients in the emergency setting and that emergency providers and psychiatrists need to collaborate in the medical evaluation process," Leslie Zun, MD, president of the AAEP, and professor and chair of the department of emergency medicine at Mount Sinai Hospital in Chicago, Illinois, told Psychiatry Advisor.
To that end, Dr Zun and other members of an AAEP task force reviewed the evidence regarding medical evaluation of psychiatric patients presenting to the ED and created the recommendations.2,6 Due to the lack of relevant randomized trials, these are based on expert consensus and may be revised as further evidence becomes available.
The following is a summary of the recommendations.
Recommendations for Medical Evaluation of Psychiatric Patients in the ED
Recommendation 1: Medical evaluation should be conducted with the aim of identifying potential medical etiology (medical mimics such as infection, encephalopathy, and substance abuse intoxication or withdrawal) and medical comorbidities requiring care but not directly related to the current psychiatric complaint (such as diabetes or chronic obstructive pulmonary disease).
"EDs should perform an appropriate medical screening exam and appropriate documentation for the presenting complaint," wrote the recommendation authors. "If there is a question [about] whether the patient has delirium or a psychiatric disorder, this patient should be medically observed or hospitalized."
Recommendation 2. The following factors should prompt consideration of further medical assessment: new-onset psychiatric symptoms in patients age >45; age ≥65; presence of cognitive deficits or delirium; symptoms suggesting physical etiology, such as cough and fever; evidence of head injury or focal neurologic findings; substance intoxication or withdrawal, or recent exposure to drugs or toxins; decreased awareness; additional indications for further assessment, such as abnormal vital signs — for example, a urinalysis may be ordered for an elderly patient with new-onset altered mental status and signs of urinary tract infection.
"The concept here is to perform medically indicated testing rather than having it done as a routine," said Dr Zun.
Recommendation 3. The term "medical clearance" is misleading and incongruent with current ED terminology and thus should no longer be used to describe the medical evaluation of ED patients before transfer to psychiatric care. A transfer note should indicate that the "patient is medically stable and appropriate for treatment in a psychiatric setting, ie, that their behavioral disturbance is unlikely to be due to a medical condition or physical trauma, and that medical/surgical treatment for any concomitant conditions is within the capabilities of the receiving facility," according to the paper. "This last statement implies that the continuing medical care required has been defined by the sending facility and that the necessary care will be available in a timely fashion at the receiving facility."
Recommendation 4. The minimum components to be included in the screening of these patients are: vital signs, history, physical examination, and assessment of mentation. Ideally, mentation should be assessed with a brief cognitive exam that includes assessment of attention, executive function, orientation, and recent memory. While this cognitive exam may be conducted by mental health or allied health providers, the emergency physician should ultimately decide whether further evaluation is warranted.
Recommendation 5. Due to the limited medical capabilities of many psychiatric settings, the receiving facility may request that routing laboratory testing be performed prior to transfer, and these requests may be accommodated when feasible. However, while clinically directed testing should be conducted in advance, transfer should not be delayed for routine testing if the patient has been determined to be otherwise medically stable for transfer. ED physicians should "work cooperatively with the psychiatric facility to determine which evaluations are needed for the patient," Dr Zun stated.
Recommendation 6. EDs and psychiatric receiving facilities should collaborate in the creation of protocols identifying low-risk and high-risk categories, as well as appropriate procedures to be followed for each. Laboratory tests, neuroimaging, and other assessments may be required for certain categories and deferred for others.
Recommendation 7. When it is unclear whether a case warrants psychiatric transfer, physicians at both facilities should review the patient's vital signs, history, and physical exam. It is "important to be clinically reasonable about the odds of suspected non-psychiatric diagnoses," the authors noted. For example, while it would be unreasonable to expect ED clinicians to rule out unlikely medical diagnoses, ED staff "should consider non-psychiatric diagnoses that mimic psychiatric conditions, such as hypothyroidism causing depressive symptoms."
Recommendation 8. This item covers topics requiring additional research, such as the essential elements of a history and physical examination in psychiatric patients, criteria that may indicate the need for more extensive ED evaluation, and the most effective approach to medical screening of these patients.
"Future research is needed to validate the consensus document," added Dr Zun.
References