November 27, 2018
AAP Responds to Tear Gas Use at US-Mexico Border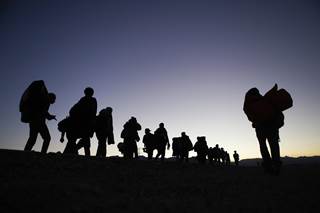 The use of tear gas in warfare has been prohibited since 1993.
The American Academy of Pediatrics (AAP) has released a statement responding to the use of tear gas on families and children seeking asylum at the US-Mexico border.1
"Our objection to this type of treatment of children and their parents is grounded in our own policy," wrote Colleen A. Kraft, MD, MBA, FAAP, president of the AAP. "The American Academy of Pediatrics recommends that all immigrant children and families seeking safe haven are treated with dignity and respect to protect their health and well-being. Children who are displaced and fleeing violence should be given special protection and humanitarian assistance... The use of tear gas on children — including infants and toddlers in diapers — goes against evidence-based recommendations, and threatens their short and long-term health."
The use of tear gas has been prohibited in warfare since 1993. However, countries including the US use the chemical for riot control by domestic law enforcement.2 Border control agents at the San Ysidro Port of Entry, which links San Diego, California, and Tijuana, Mexico, fired tear gas at asylum seekers, a response that has alarmed, in addition to physicians, politicians and activist groups.3 A tweet by the Customs and Border Protection Agency stated that "several migrants threw projectiles," and the tear gas was a response to protect agents' safety.
Previous medical research4 has examined the effects of tear gas and pepper spray when used for crowd control, concluding that the use is "not without risks," especially for people with preexisting respiratory conditions. In the 2009 paper published in BMJ, investigators noted that treatment for tear gas exposure requires chemical decontamination, and that some individuals may experience "delayed complications that can be severe enough to warrant admission to a hospital and even ventilation support."4
Dr Kraft added that children are "uniquely vulnerable" to the physiological effects of chemical agents due to their smaller size and limited cardiovascular stress response.
"Many of these children are fleeing conditions that threaten their health and safety; they have taken harrowing journeys to seek refuge in our country. Our government must take extra precautions when it comes to children. We must make every effort not to retraumatize them," Dr Kraft stated.
She concluded, "Immigrant children are still children, and they deserve our compassion and assistance. We will continue to speak out against their inhumane treatment and advocate for their safety."
References