October 05, 2018
Understanding the Cause is Necessary to Treating Physician Burnout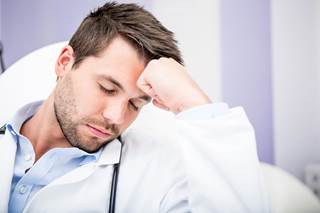 Physician burnout has been called a national epidemic, purportedly affecting as many as one-half to two-thirds of practicing physicians.
Physician burnout has been called a national epidemic, purportedly affecting as many as one-half to two-thirds of practicing physicians. In an editorial for JAMA calling attention to the need for further research, investigators claim that "there is clearly something important and worrisome happening to physician well-being." However, what is not clear is the underlying cause or specific conditions that give rise to burnout among physicians, or even what burnout really means.1
According to the authors, there is no widespread understanding of the pathophysiology of burnout, or conclusions about how it should be measured. Thus, ideas such as "half of all physicians experience burnout" are not only complicated to prove but further the notion that burnout is easy to diagnose. The investigators cite 2 studies, also published in JAMA, that attempted to study physician burnout.2,3
The first of the studies2 was a meta-analysis examining burnout prevalence and demographic correlates in more than 100,000 physicians from 45 countries. The study found so much heterogeneity in the outcomes that is was impossible to draw any conclusions about the prevalence of burnout or its effects.
The second study3 sampled 4732 first-year medical students, some of whom completed a follow-up questionnaire as fourth-year students and an assessment as second-year residents. There were varying numbers of resident physicians among different specialties. The study used 2 questions from the Maslach Burnout Inventory: "I feel burned out from my work" and "I've become more callous toward people since I started this job," with a positive score indicating "weekly or more often" for either response. The prevalence of burnout was measured by a positive response to either question, which was the case for 45.2% of the second-year residents. The researchers found that female resident physicians, those with higher levels of self-reported anxiety, and residents in urology, neurology, emergency medicine, and general surgery were more likely to experience burnout.
Because studies indicate that the risk for burnout may vary according to factors such as location, clinical setting, type of practice, medical specialty, and other demographics, the editorial authors suggested that an explanatory model is essential to understanding these demographic correlates and leading to possible interventions. In addition, they suggested that because the Maslach Burnout Inventory was originally developed for measuring burnout in the social service professions, it is unclear whether the test is appropriate for assessing burnout among physicians or preclinical medical students. In conclusion, increased overall understanding of physician burnout could lead to better treatment for physicians who are suffering.
References
Schwenk TL, Gold KJ. Physician burnout—a serious symptom, but of what? JAMA. 2018;320(11):1109-1110.
Rotenstein LS, Torre M, Ramos MA, et al. Prevalence of burnout among physicians. A systematic review. JAMA. 2018;320(11):1131-1150.
Dyrbye LN, Burke SE, Hardeman RR, et al. Association of clinical specialty with symptoms and career choice regret among US resident physicians. JAMA. 2018;320(11):1114-1130