November 14, 2012
Brittany Murphy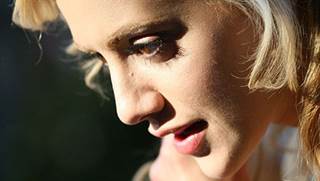 Brittany Murphy
Theories abound concerning the actual cause of death of actress Brittany Murphy. On December 20, 2009, she fell to the floor of the bathroom in the home that she shared with her husband Simon Monjack, a British screenwriter. Firefighters who arrived on the scene attempted to resuscitate her. She was pronounced dead on arrival at Cedars-Sinai Medical Center. Assistant chief coroner of Los Angeles, Ed Winter, told the Associated Press, "It appears to be natural."
The day after she died, an autopsy was carried out and the official cause of death was listed as "deferred." On February 4, 2010, the Los Angeles County coroner stated that Murphy's death was primarily caused by pneumonia, with secondary factors being iron-deficiency anemia and multiple drug intoxication. On February 25, 2010, the coroner released a statement that Brittany had been taking multiple over-the-counter and prescription medications, most likely to treat a cold. The drugs were all legal, but the report stated "the possible adverse physiological effects of elevated levels of these medications cannot be discounted, especially in her weakened state."
A few years preceding her death, Brittany shed a great deal of weight, which led to rumors of cocaine addiction and an eating disorder. She claimed to have never tried cocaine in her entire life. Also, Brittany's friends made no secret of their concern that she may have become addicted to Vicodin following plastic surgery.
Five months after Brittany's death, her husband was found dead at the same house they shared in the Hollywood Hills. His death, according to Assistant Chief Coroner Ed Winter, was acute pneumonia and severe anemia. However, the LA County Department of Health had suspected toxic mold in their house as a potential cause of both deaths. In December 2011, Brittany's mother ascertained that toxic mold killed both her daughter and son-in-law and filed a lawsuit against the builders of their home. It is rather odd that two people died of respiratory illness in the same house within a few months of each other.
To this day, there is no definitive cause of Brittany's death identified and the mystery surrounding her death continues: was it due to natural causes, prescription drugs, illicit drug addiction, an eating disorder, toxic mold, or a combination of causes?
Reference
Brittany Murphy. Wikipedia. http://en.wikipedia.org/wiki/Brittany_Murphy.
Dillon N, Kolodner M. 'Clueless' actress Brittany Murphy dies after collapsing in shower; death 'appears to be natural.' NY Daily News. http://articles.nydailynews.com/2009-12-20/gossip/17942106_1_clueless-tmz-plastic-surgery.
Weber C. Brittany Murphy dead: dies at just 32. Huffington Post. http://www.huffingtonpost.com/2009/12/20/brittany-murphy-dead-dies_n_398576.html.