December 21, 2016
Free Meals Persuade Physicians to Prescribe Brand-Name Drugs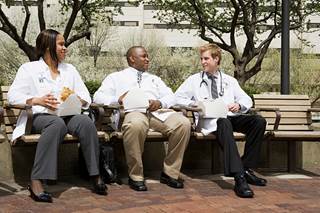 This study sheds light on a popular marketing tactic that may raise drug costs for seniors.
HealthDay News -- According to a study published in JAMA Internal Medicine, physicians who receive even one free meal -- valued at less than $20 on average -- are more likely to prescribe a promoted brand-name drug than a cheaper alternative.
University of California, San Francisco, researchers linked information from two federal databases.
The team identified the most-prescribed brand-name drugs in each of four common drug classes in 2013.
These included Forest Laboratories' Bystolic (nebivolol) and Daiichi Sankyo's Benicar (olmesartan medoxomil), as well as AstraZeneca's Crestor (rosuvastatin calcium) and Pfizer's Pristiq (desvenlafaxine succinate).
The researchers found 279,669 physicians received 63,524 payments totaling $1.4 million related to the four brand-name drugs. Ninety-five percent of payments were for meals, with an average cost of less than $20.
Of those doctors, 155,849 wrote more than 20 prescriptions in at least one of the four categories. Even after adjusting for other factors like prescribing volume, doctors who received a single meal were more likely to prescribe Crestor over other statins, Bystolic over other β-blockers, Benicar over other angiotensin-converting enzyme inhibitors, and Pristiq over other antidepressants.
Payments for food and beverages provided to doctors totaled $224.5 million in 2014, JAMA Internal Medicine editor-at-large Robert Steinbrook, MD, noted in an accompanying editorial.
"If drug and device manufacturers were to stop sending money to physicians for promotional speaking, meals and other activities without clear medical justification and invest more in independent bona fide research on safety, effectiveness, and affordability, our patients and the health care system would be better off," Steinbrook writes.
References
DeJong C, et al. "Pharmaceutical Industry–Sponsored Meals and Physician Prescribing Patterns for Medicare Beneficiaries." JAMA Intern Med. 2016. 176(8): 1114-1110. doi:10.1001/jamainternmed.2016.2765
Steinbrook R. "Industry Payments to Physicians and Prescribing of Brand-name Drugs." JAMA Intern Med. 2016. 176(8): 1123. doi:10.1001/jamainternmed.2016.2959