April 18, 2017
Young Doctors Urged to Be Mindful of Social Media Behaviors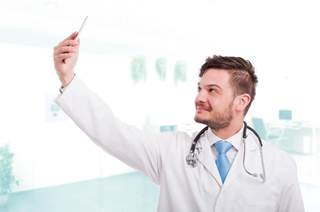 Investigators found many examples of unprofessional and 'potentially objectionable' behavior online.
HealthDay News -- According to a study published in BJU International, young doctors often have unprofessional or offensive content on their Facebook profiles.
Kevin Koo, MD, PhD, a urology resident at the Dartmouth-Hitchcock Medical Center in Lebanon, NH, and colleagues queried 281 doctors who graduated from US urology residency programs in 2015.
The investigators found that 72% had a publicly identifiable Facebook profile. Next, the researchers looked for content deemed unprofessional or at least potentially offensive.
The team found such content in 40% of the profiles. Unprofessional content included images or references to drunkenness, drug use, or unlawful behavior. It also included posts that divulged protected patient information.
One post showed X-rays where a patient's name was visible; others gave enough details that the patient could be identified -- like describing complications that happened during surgery on a specific date.
"The majority of recent residency graduates had publicly accessible Facebook profiles, and a substantial proportion contained self-authored unprofessional content," the authors write. "Greater awareness of trainees' online identities is needed."
Reference
Koo K, Ficko Z and Gormley EA. "Unprofessional Content On Facebook Accounts Of US Urology Residency Graduates." BJU International. 2017. doi: 10.1111/bju.13846 [Epub ahead of print]