November 28, 2012
Michael Swango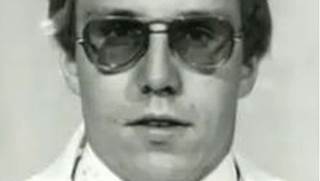 Dr. Joseph Michael Swango
Joseph Michael Swango was a handsome high school valedictorian, and graduated college Summa Cum Laude. He played the clarinet in a marching band and won an Outstanding Merit Award for his musical talent. He was a National Merit Scholarship Finalist. He served in the Marine Corps and received an honorable discharge in 1976.
He was also a murderer. With co-workers, he used poisons, typically arsenic, slipping them into their food. With patients, he sometimes used poisons, but typically administered an overdose of whatever drug the patient had already been prescribed. Here are just some highlights of the unimaginable story of a doctor gone wild...
As a medical student at Southern Illinois University between 1978 and 1983, Swango earned the nickname"Double-O Swango"—a nod to James Bond, who had a "license to kill"—because of the perception that patients were more likely to die under his care.
1983
A graduate of Southern Illinois University School of Medicine, Swango secures a surgical internship at Ohio State University Medical Center in spite of a very poor evaluation in his dean's letter from the university. While working at the Rhodes Hall wing, nurses notice that apparently healthy patients are dying mysteriously and with alarming frequency. One nurse catches him injecting something into a patient who later becomes strangely ill. The nurses alert administrators, but were accused of being paranoid. Swango is subsequently rejected for a residency in neurosurgery.
1984
Swango is hired as an EMT with the Adams County Ambulance Corps in Massachusetts. (He had been fired from another ambulance service after he made a cardiology patient drive to the hospital.) In no time, many of his colleagues begin to notice that whenever Swango brings in food or brews the coffee, some of them would usually became violently ill.
1985

Swango is convicted of aggravated battery for poisoning his co-workers. He is sentenced to 5 years' imprisonment.
1989
Released from prison, Swango gets hired as a counselor at the state career development center in Newport News, Virginia. He is fired after being caught creating a "disaster" scrapbook during working hours; the scrapbook depicts especially grisly car and airplane crashes, savage sex crimes, bloody military coups, arsons, riots, and macabre crimes. He then finds work as a lab tech for ATICoal in Newport News. During this time, a number of co-workers were forced to seek medical attention, complaining of persistent stomach aches. Swango meets Kristin Kinney, a nurse. They fall in love and plan to marry once they get settled.
1991
Michael Swango legally changes his name to Daniel J. Adams and, with forged documents, applies for a residency program at Ohio Valley Medical Center in Wheeling, West Virginia.
1992
Using forged documents, Swango gets a job at Sanford USD Medical Center in Sioux Falls, South Dakota. He attempts to join the American Medical Association, which discovers the facts about his poisoning conviction and the fact that he's an ex-convict.
Suffering from violent migraines, Kristin Kinney returns to Virginia. After she leaves Swango, the headaches stop.
The AMA temporarily loses track of Swango, after he moves to New York and lands a job in the psychiatric residency program at the SUNY Stony Brook School of Medicine. His first rotation is at the Veterans Affairs Medical Center in the internal medicine department in Northport, New York. Again, his patients begin to die for no explicable reason.
Kristin Kinney commits suicide; arsenic is found in her body at the time of her death.
The dean of the Stony Brook School of Medicine sends a warning letter about Swango to all 125 medical schools and all 1000 teaching hospitals in the nation, which effectively blacklists him from getting into a medical residency in the US. Swango drops out of sight as the FBI begins investigating him.
1994
The FBI locates Swango living in Atlanta and working as a chemist at the wastewater facility of a computer equipment company, but Swango flees the country to Southern Africa. Based on forged documents, Swango is hired as a physician in Zimbabwe at Mnene Lutheran Mission Hospital. Once again, his patients die suddenly and mysteriously.
During this time, Swango rents a room from a widowed woman in Bulawayo, who subsequently becomes violently sick after a meal he prepares for her and a friend. The woman consults a doctor who takes her hair samples and submits them to forensics in Zimbabwe; the hair samples route via Interpol to the FBI. Swango is arrested, but he skips town before his trial date, crossing the border to Zambia and subsequently to Namibia, where he finds temporary medical work. Swango is charged in absentia with poisonings.
1997
Employing a fake résumé, Swango applies for work at the Royal Hospital in Dhahran, Saudi Arabia. Immigration and Naturalization Service agents arrest Swango at O'Hare International Airport in Chicago on his way to Saudi Arabia. Swango is extradited to New York where he is charged and convicted of practicing medicine without a license and fraud.
1998

Swango pleads guilty to defrauding the governing and is sentenced to 3½ years in prison. As Swango is serving time in prison, the government is amassing a dossier of Swango's crimes, while Zimbabwean authorizes charge Swango with poisoning 7 patients, 5 of whom died.
2000
Facing a possible death penalty in New York and extradition to Zimbabwe, Swango pleads guilty to murder and fraud charges. Circumstantial evidence is found that links Swango to 35 suspicious deaths. The FBI states that he may have killed as many as 60 people. But he only admits to killing 3 men in a VA hospital in New York (where he prescribed narcotic medications), and a young woman with an injection of potassium while an intern at Ohio State University Hospital. Passages in Swango's personal journal describe the joy he felt during his crimes. Swango is sentenced to 3 consecutive life terms, without the possibility of parole. He is currently incarcerated at a super-maximum-security prison in Colorado.
A book written by James B. Stewart called Blind Eye: The Terrifying Story of a Doctor Who Got Away With Murder documents this shocking chronicle of a psychopathic doctor and of the medical establishment that chose to turn a blind eye on his criminal activities.
Reference